Electrodip
Electrodip has over 20 years of experience providing the original "magic eye" an electronic spray race for jetting and dipping of sheep to eradicate fly, lice, scab mite and blue tongue.
Contact Electrodip
Your Email
* indicates mandatory fields.
Products
Electrodip
Electrodip is a market leader in the production of high quality Sheep Jetters. These innovative Jetters are environmentally and user friendly, with thousands of satisfied customers around the globe. The Jetters utilise constant high pressure with low volume, resulting in significant chemical savings and are ideal for fly, lice, scabmite and blue tongue prevention. Achieve significant savings in time and resources The Electrodip Sheep Jetter saves both time and money by efficiently dipping sheep in a matter of hours compared to traditional methods which can take up to a matter of days to effectively dip the herd Sides of the Electrodip automatically adjust to the size of the sheep Innovative pumping system maintains a constant pressure at the nozzles resulting in consistent jetting performanceEffectively treat up to 12,000 sheep per day Autogate prevents animals from escaping and maintains jetting at a high pressure Regulator maintains a constant pressure during Jetting Features a solid galvanised construction proven to last the test of time Jetter features wheels for easy manoeuvrability Reduce wastage with environmentally friendly design Environmentally friendly Jetter is designed to reduce chemical wastage Covers are included to prevent the release of spray into the atmosphere Low volume chemical application ensures that the correct amount of chemicals are applied in accordance with size and wool cover of the sheep Electrodip offers exceptional before and after sales service ensuring piece of mindWith over 20 years experience in the design and manufacture of Sheep Jetters, the Electrodip Magic Eye Sheep Jetters provide the ideal solution to your Sheep Dipping requirements.
Videos
Click thumbnail to watch video
Electrodip Magic Eye Sheep Jetter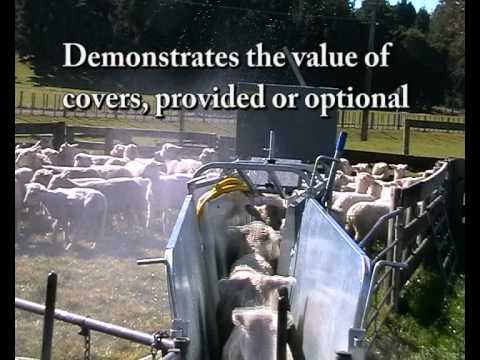 News
Supplier news
06/12/13
- After establishing itself in several leading markets across the world, a maker of portable sheep jetters is now exporting its product to Mongolia. The Te Puke-based company, Electrodip manufactures portable sheep jetting machines and also exports to Australia, UK, Ireland, India, Turkey, Uruguay, France and Romania. After receiving an order from Mongolia, Electrodip has added the Asian country to its list of export markets. Company owner Martin Carey is just back from Mongolia where he showed sheep farmers there how to use the jetters. The jetters were shipped to China in June, then railed to the Mongolian capital Ulan Bator. They will help improve the welfare and production of the country's sheep farmers and their 15 million flock. Carey says the appearance of other farm machinery in Mongolia suggests a major effort to improve farming methods. Six times the land area of New Zealand, Mongolia sits landlocked 'on top of the world'. Carey says the country has started with massive foreign interest in its mineral wealth. Now efforts are being made in the fast-developing agricultural sector, with Carey approached to supply his machines with modifications to suit Mongolia and its animals.
Contact Electrodip
12 Stewart Street
Te Puke
New Zealand 3119