Vetmarker
Fenemor Innovations provide the Vetmarker for Loading, Ear Marking, Castration/Docking and Scabine for Lambs.The designer of the Vetmarker is a NewZealand sheep farmer who is focused on improving operational productivity on the farm and well as ensuring ease and comfort for both staff and stock.
Contact Vetmarker
Your Email
* indicates mandatory fields.
Products
Vetmarker
The Vetmarker is a lamb-marking chute that releases lambs onto their feet after earmarking, vaccinating, castration, scabine injection and drenching.The straight rollers, in a deep V shape, help prevent the lambs from escaping or getting their legs stuck. Lambs can also be automatically sprayed for flystrike protection on release. A sensitive and reliable solution for agricultural lamb marking Simple yet safe straight spring loaded roller design keeps lambs calm during process Adjustable height and transportable with two people for operational ease Innovative base automatically ejects flystrike if required for efficiency Suitable for a variety of lamb sizes ensure the animals land on their feet safely Easy to install for immediate use Accessible from either side of the chute Vetmarker offers a number of applications: Ear marking and tagging Drench and castrating Scabine vaccination and injections Spray for flystrike Award-winning Weigh Vet Marker effectively weighs lambs at marking Highly developed to accurately weigh and mark lambs with compromising time and handlingIntegrated with self-lock on the top rail of lamb catching penDesigned with Iconix Load Cells with leads compatible with Tru-Test and Gallagher indicatorsSimple installation only requiring Iconix Load Cells to be configured to indicators onceAutomatic weighing when lambs are loaded for ease and speed After weighing, lamb continues down Vetmarker chute to complete other marking procedures Improving processing productivity, Vetmarkers intelligent chute and Weigh Vetmarker allow you to handle your lambs with reliability and ease.
Videos
Click thumbnail to watch video
Lamb Marking Solution from Vetmarker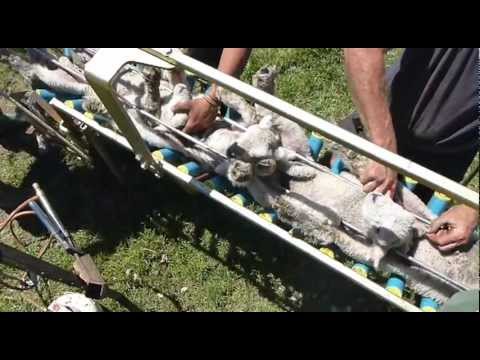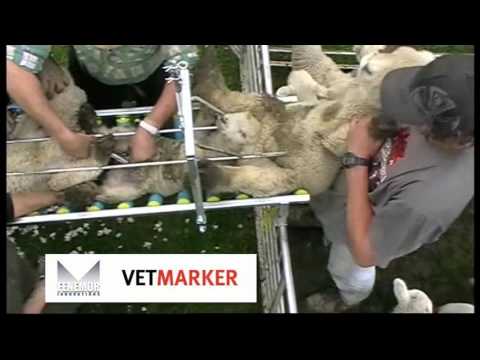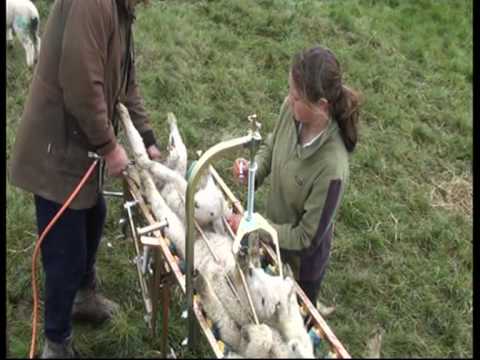 News
Supplier news
07/02/17
- From 1 January 2017 all lambs born in Victoria have had to be tagged with EID tags.The Vetmarker is the perfect lamb marking chute to do this in because it provides plenty of access to the lamb's ears and makes it easy to tag the lamb.On the Vetmarker website under the weigh section you can view a farmer using EID tags. EID tagging can be carried out in the Prime, Merino or Weigh Vetmarkers.
Supplier news
14/11/13
- The Weigh Vetmarker has taken home first prize in the in the Class 2 category for Sheep Handling - Equipment to hold & handle sheep at the Hamilton Pastoral and Agricultural Society's Sheepvention event. Sheepvention is the Hamilton Pastoral and Agricultural Society's largest farming event, with over 25,000 visitors attending last year's show in regional Victoria. The show demonstrates the diversity and history of sheep in Australia, with the Sheep Show exhibiting up to 1000 sheep including Heritage and Merino breeds. Fenemor Innovations developed the awards winning Weigh Vetmarker to enable farmers to efficiently weight lambs at marking time in a safe, and timely manner. Lambs can be weighed automatically as soon as they are loaded into the Vetmarker and once weighing has taken place, the animal continues down the device for all other routine procedures. The Weigh Vetmarker self-locks onto the top rail of the lamb catching pen and features Iconix Load Cells with compatible leads for Tru-Test and Gallagher indicators. The Weigh Vetmarker has received rave reviews from satisfied customers including Matt Holden, who says that system has improved operation efficiencies on the farm. "The Vetmarker docking chute proved to be a real success, not only with its spray and release system which works really well," said Holden "The on-board scales are revolutionary especially with all our lambs being tagged at docking. To have the ability to monitor individual growth rates throughout lactation is potentially very powerful on farm information. With the clever design of the Vetmarker we felt no time was compromised with the lambs being weighed at docking time, in fact it was very efficient and the docking gang was impressed."
Supplier news
22/01/13
- The Vetmarker from Fenemor Innovations is a marking chute that will put lambs on their feet once they have been released. Once the lamb is loaded into the Vetmarker, there are a number of different treatments that can be carried out which include ear tagging, vaccinating, castration and drenching scabine vaccination. The Vetmarker has straight rollers in a deep V shape which prevent the lambs from any escape or injuries. When the lambs reach the bottom of the Vetmarker the tail can be quickly and easily removed. The lambs can then be automatically sprayed for flystrike on release if required. The benefits of the Vetmarker include: It is easy for two people to carry Less stress on the lamb Allows for a number of lamb sizes Lambs land on their feet once released The height can be adjusted A labour unit is saved with the automatic sprayer Contact Fenemor for more information on the use of the Vetmarker to simplify docking, vaccination and other lambing operations.